Landscape Design & Installation
A professionally designed and installed landscape can enhance the visual appeal and value of your property. Our designs are admired for their beauty, longevity and ease of maintenance. If you have a new property or need to redesign the grounds of your current property, contact our residential and commercial experts for a consultation. You can depend on us to help you during all phases, from planning and design to complete installation.
Residential Landscape Design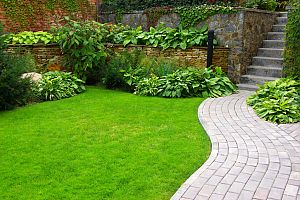 We specialize in the design and implementation of exterior spaces that enhance your outdoor living experience. If you value imaginative thinking and scrupulous attention to detail, you'll be attracted to the way we work. Our designs create stunning and innovative landscapes that mesh with your lifestyle.
Commercial Landscape Design
Landscape architecture can enhance the visual appeal and value of any commercial establishment. Our firm has worked with leading commercial property owners throughout the Central Ohio Area. Once your landscape has been installed, we can develop a custom management plan to maintain it throughout the year.
Hardscapes
We provide hardscape planning and installation for patios, walkways, retaining walls and more.